After Retirement - Enriching Family and Friends
You may have children and grandchildren. You could also have nephews, nieces and their children. They, in turn, would also probably have friends and neighbors, along with their children and grandchildren. All these form a group of persons who can become the focus for a variety of activities that you could consider. As a retiree, your help could take a lot of pressure off married and single parents, whose lives are often under stress in today's fast-paced society.
This large group of family members and friends can be divided by relationship or by age and gender into different sub-groups for whom different interesting activities could be considered. Examples are given below:
Helping grandchildren with their homework
Babysitting
Teaching hobbies and crafts
Joining a family member in taking a course
Driving children to after-school activities
Looking after children when they're ill
Young people today are usually active computer users. They can develop their confidence by helping you to acquire some basic computer skills, so as to keep in touch with family and friends by email and to view and send photos online.
By meeting regularly, with children and young adults, you could give them the benefit of your experience and knowledge. Pay special attention to young children and exchange thoughts and ideas with them. You can provide a listening ear to a troubled teenager. You could provide guidance on activities that children could undertake. Such activities could include discussion of career opportunities and requirements.
When spending time with children and young adults, it is best to do so without imposing your own views on them. The object should be to help the parents and provide the patient listening and guidance that the children don't always get.
Friendliness, trust and warmth are essential requirements for such activities to be successful. Thus, a retired person will have to acquire certain qualities and skills to be truly helpful. The effort required to acquire these qualities will itself provide interesting ways of using the time that you have available.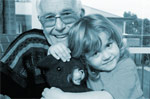 It is also possible that you have some professional or academic skills that can be used to explain certain subjects to young students. Spending time with children in this way would enable them to make learning breakthroughs and also develop their logical reasoning abilities.
When such activities cannot be easily developed with members of the immediate family or those of relatives, friends, or neighbours, retired persons should turn to orphanages, foster homes, or other institutions for young people, where their devotion and knowledge would be welcomed.
Enriching the lives of friends after Retirement
You could also form your own group of retired adults who get together for joint enrichment, such as taking walks or hikes together, doing photography or shopping together. Such activities themselves would be successful in creating a healthy physical activity for all those involved.
The opportunity could be taken to give such meetings an intellectual flavor by agreeing in advance to devote attention to the study of developments in selected fields in the country, state, city or locality. Each member of the group could devote thought to some particular problem or issue and talk on the subject for a few minutes to start a discussion while seated together at a park or beach. As different members of the group are given this function for different days and discussions of particular subjects are carried over to subsequent days, everyone can benefit by learning something new or acquiring a fresh perspective on an existing issue.
Newly retired persons should be welcomed into the group and of course visitors with special knowledge or training should be welcomed to present their thoughts on specific topics, so that the meetings-cum-walks remain interesting over time.